LocusZoom is a suite of tools to provide fast visualization of GWAS results for research and publication.
Original LocusZoom (R/Python) is ideal for batch generation of static plots.
LocusZoom.js (JavaScript) aims to make LocusZoom plots interactive and scriptable.
---
Plot Your Data

Single Plot
Your Data - Original LocusZoom

Batch Plot with Hitspec
Your Data - Original LocusZoom
Plot Published GWAS

Single Plot
Published GWAS - Original LocusZoom

Interactive Plot
Published GWAS - LocusZoom.js (New)
News
---
Explore your own data with LocalZoom ~ March 29, 2019
We have recently been working on ways to simplify generating an interactive plot with your own data, using only a web browser, without the need for a server. Our "LocalZoom" tool is the first visible step in this process- it is currently in beta, but can be helpful for exploratory analysis.
Features:
Generate a LocusZoom plot from a local file of summary statistics, in your web browser. No web server required. (you must tabix and bgzip the data yourself separately, and select *both* files when loading)
Full support for build 37 or build 38 data (including genes, recombination rate, and LD)
Compare up to 3 studies in a single plot
Optionally annotate the plot with calculated 95% credible set (based on the data shown on the screen) and SNPs found in the EBI GWAS catalog. The credible set calculation results can be exported as table / CSV.
Jump to region box: enter a region (10:114550452-115067678), or search by rsid/ gene name (exact match). The plot defaults to a region near the first few rows of your data.
Limitations:
This tool only fetches the data needed for a single Locus at a time. It does not do anything that requires summarizing the entire dataset (eg manhattan plot).
Your input file must contain all the data required to make the plot: chrom/pos/ref/alt/(log)pvalue. The tool does not work with rsids.
You must manually select the build for your data. It does not auto-detect the build.
Some features are very much in beta- feedback and bug reports are highly welcome!

It will try to auto-detect file columns, though you will often have better results selecting columns manually.
The "load from URL" button requires that the server support both CORS and byte-range requests. Not all servers do this.
Because the data stays on your computer, this tool does not provide a way to share a link with colleagues.
--Andy Boughton
Support for Interactive Annotation/BED Tracks ~ November 11, 2016
With its latest release (v0.4.8), LocusZoom.js now has built-in support for display of annotation/BED tracks. You can also see and work with annotation track data now on the Interactive Plot page.
--Christopher Clark
LocusZoom.js Poster at ASHG 2016 ~ October 13, 2016
Some members of the LocusZoom team will be at the American Society of Human Genetics conference in Vancouver, Canada from October 18-22. This will include the presentation of a poster describing the new interactive LocusZoom.js:
The poster will be located at 1829T in the Bioinformatics and Computational Approaches section. See and download the full resolution PDF of the poster here.
If you find yourself at ASHG this October please stop by! The poster session will be from 2PM-3PM on Thursday, October 20.
--Christopher Clark
---
Announcing LocusZoom.js ~ September 16, 2016
Recently the UM/CSG team began work on LocusZoom.js, a way of making LocusZoom embeddable and interactive.
Starting from scratch we developed a LocusZoom semi-clone entirely in Javascript with forward thinking into how it could be more extensible. Below is a flat image showing what a plot generated in LocusZoom.js can look like today: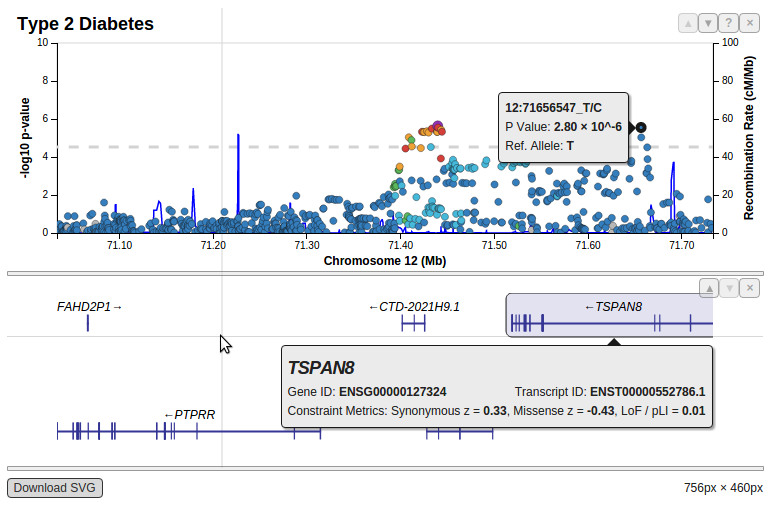 Being built for the web, interaction with the new LocusZoom.js is fundamentally different from how you would interact with Original LocusZoom (built in Python and R for command-line operation). To see for yourself begin by interactively plotting published GWAS results. Add arbitrarily many studies and navigate around the genome with your mouse. LocusZoom.js has not yet been hooked up to a form to upload your data here on this website, but it is open source and heavily documented so you can build your own applications with it. See the documentation and get the source code to get started!
The original LocusZoom (Python/R) for generating single/batch plots of your data or single plots of published GWAS datais still available here and will continue to be.
Please tell us what you think! Post your questions and feedback on the LocusZoom Message Board.
--Christopher Clark
---
First Publication ~ September, 2010
We are pleased to announce that our paper on LocusZoom has been published!
Reference: Pruim RJ*, Welch RP*, Sanna S, Teslovich TM, Chines PS, Gliedt TP, Boehnke M, Abecasis GR, Willer CJ. (2010) LocusZoom: Regional visualization of genome-wide association scan results. Bioinformatics 2010 September 15; 26(18): 2336.2337.
--Terry Gliedt
Links
---
New LocusZoom.js
Original LocusZoom
Publications
LocusZoom: regional visualization of genome-wide association scan results
R.J. Pruim, R.P. Welch, et al., Bioinformatics (2010)


LocusZoom.js: Web-based plugin for interactive analysis of genome and phenome wide association studies
C.P. Clark; M. Flickinger, et al., Presented at the 66th Annual Meeting of The American Society of Human Genetics, October 20, 2016, Vancouver, Canada


Usage Stats
Plots Generated by Original LocusZoom
| | |
| --- | --- |
| This week | 94 |
| Year 2019 | 60325 |
| Jan | 8056 |
| Feb | 5945 |
| Mar | 8023 |
| Apr | 6134 |
| May | 7492 |
| Jun | 6636 |
| Jul | 8088 |
| Aug | 7236 |
| Sep | 2715 |
| Year 2018 | 94942 |
| Year 2017 | 88479 |
| Year 2016 | 88813 |
| Year 2015 | 96212 |
| Year 2014 | 97391 |
| Year 2013 | 87012 |
| Year 2012 | 69783 |
| Year 2011 | 50775 |
| Year 2010 | 22184 |
---
Copyright © 2009-2019 University of Michigan, Department of Biostatistics, Center for Statistical Genetics